10 Reasons why a Baser Parasol Base is The Best Choice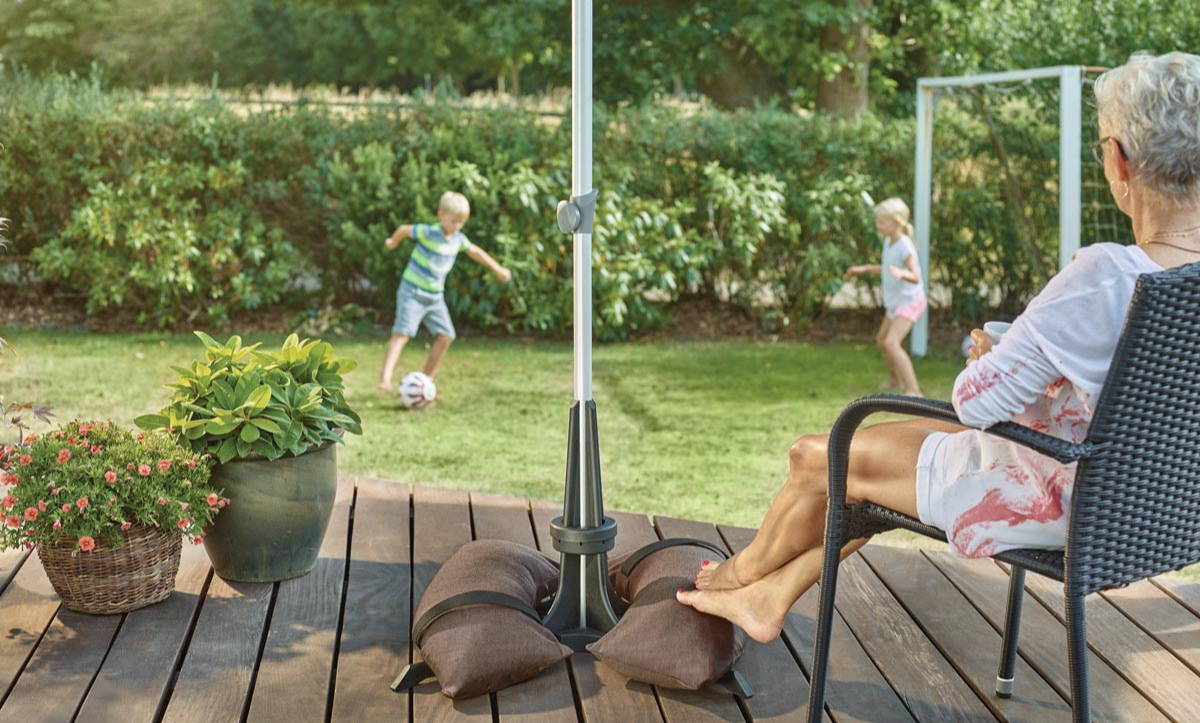 You might say to yourself: what's so special about this parasol base with sandbags? Trust me, I understand you. A base kit and two bags filled with sand. Sounds too good to be true.
For years, many people told us the exact same thing. But we stood tall and insisted this was, indeed, the better solution. Now, over 10.000 users later – we are not alone.
Let me emphasize something for you:
Joe has had the same traditional concrete base for years. He leaves it outside all year round, since it's too clumsy to move away from its spot. Too much effort. This leaves the tube, bolts, and nuts to fight against the nasty winter weather, and the base ends up rusty and damaged. When the first rays of sun finally return in spring, Joe's parasol is stuck. If he decided to store his parasol, the situation won't be much better. He won't be able to get the parasol straight down in the tube again and much less secure it, since the bolts and nuts won't work anymore.
And Joe is not the only one…
Millions of people like him and like you have experienced an old cranky parasol base that:
is difficult to move

destroys the wooden terraces

has a tube that never fits the pole.

has adjustment caps and bolts that fail to secure the pole.

can't stop the base and parasol from tipping over in the light of a breeze.
Luckily, we are here to save the day.
The Awesome Features of Our Baser Parasol Base
Let's all be clear: A sandbag is a very simple idea, so our sandbags are not patented. Period. Come on – it's a sandbag. But hey, we gave it a new function – as the weight on our awesome patented base kit:
World-patented base kit - one to fit them all!
In our product development phase, it was very clear to us. We wanted to get rid of the tube and all the loose parts that either rust or don't fit the parasol. So, we invented a completely new system – the Baser base kit.
Our goal was to create a parasol base that would fit all parasols, regardless of the diameter, and that would never rust. A parasol base should be easy to assemble and disassemble and always hold tight around the pole of the parasol. And we made the best parasol base of them all. Our parasol base was born with a game-changing base kit of three elements: base plate, four legs and a ring.
What makes this base kit so special is the fact that has been designed with the user in mind. How? Easy. Besides designing a kit that would never rust, our base kit fits all parasol poles and will definitely match your parasol. Guaranteed. Plus, our different models (30 kg, 40kg and 50kg for the parasol base for the garden & 15kg and 20kg for the parasol base for the balcony) fit a wide range of screen diameters. Basically, one parasol base to fit them all.
Sandbags: so simple yet so heavy
Back in 2007, Josefine's dad was pretty tired of his cantilever parasol because it required heavy concrete flabs to make the parasol stand. He disliked that, because the parasol base made the parasol impossible to move around on their small terrace. Having an easy-to-move parasol base is a need in Denmark, since the sun moves a lot on the sky in summer. The only solution he could think of was sewing a sandbag out of some outdoor fabric he had in his shed and put sand in. After experimenting with this solution for a while he got a bright idea! To change the whole parasol base into something everybody could use. He introduced sandbags, in place of concrete, as the weight, since the sandbags were much easier to use.
Yes, sandbags are really stable
Many people's first impression is that using sandbags as the stabilizing weight for a parasol base seems quite the opposite to stable. Yet, after years and years of testing, what we and our thousands of happy customers discovered is that sandbags offer even more stability. Why? Because of the combination of our base kit and the heavy weight of the sandbags. It makes the parasol able to flex just slightly. This means, that the gust from the wind is simply reduced as the parasol calmly sways.
As one of the industries that produces most CO2, not only is the granite and concrete industry very bad for the environment. But concrete is also way more difficult to handle than a soft (yet heavy!) sandbag. So, is using sandbags for your parasol base a great idea? YES, it's easy, it's heavy and it's also a bit cozy.
… but I have convenient handles to help me move my parasol base and parasol around?
Sure, most "modern" parasol bases offer some kind of aid by placing a small metal handle on the side, so you can drag your base over the ground (take care of that wooden terrace!). They can also have a pull-out handle, so you can completely tilt the whole thing and go for a walk with 50 kg of granite (super fun stuff). Yet, neither of these options are very user-friendly. Let's put it this way: damaging the wooden terrace could be the least of your concerns. Better watch your back and let's avoid unfortunate injuries before the summer starts. Our base kit is practical and completely ergonomic: designed to reduce back injuries. Because we have, too, struggled to move a parasol base.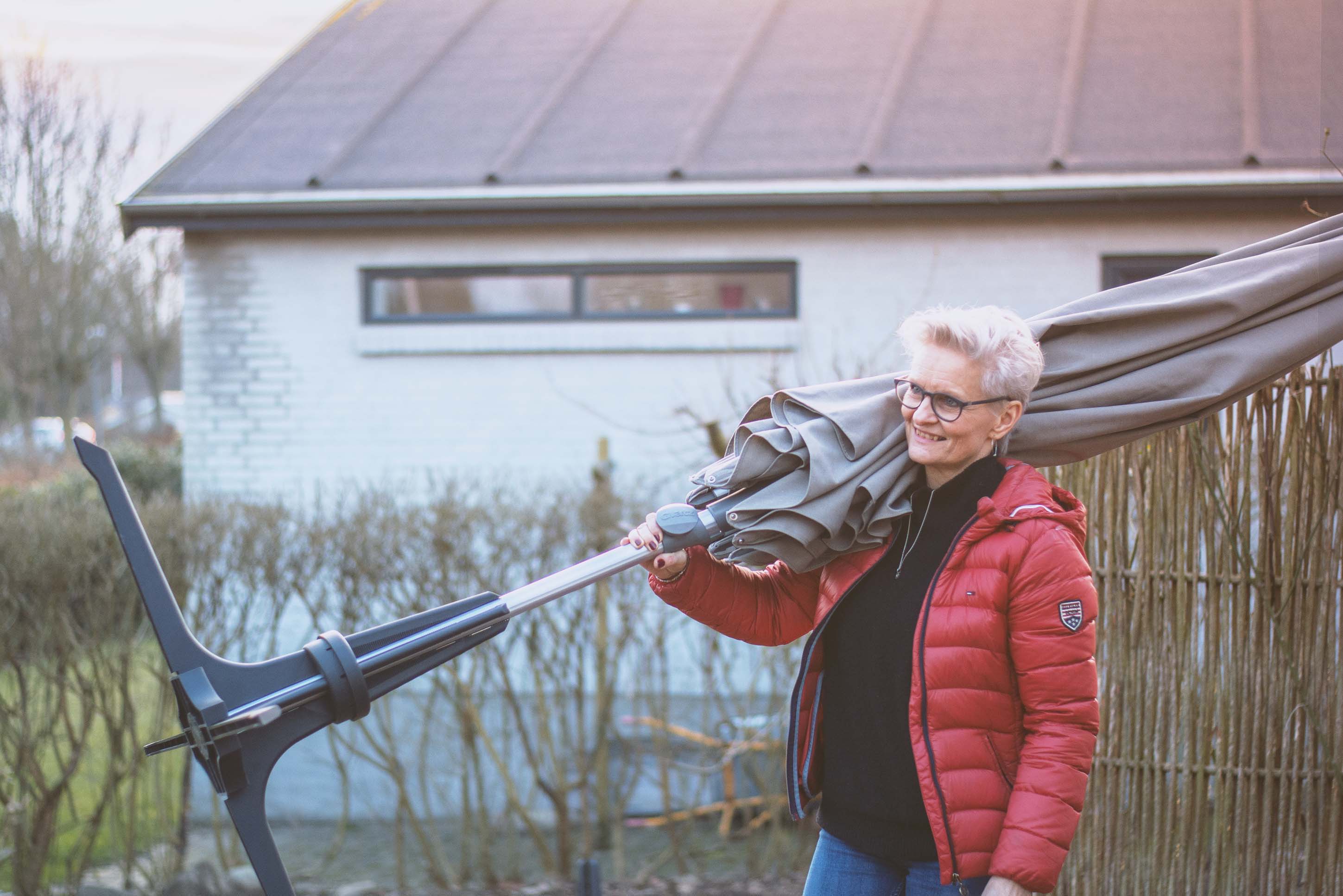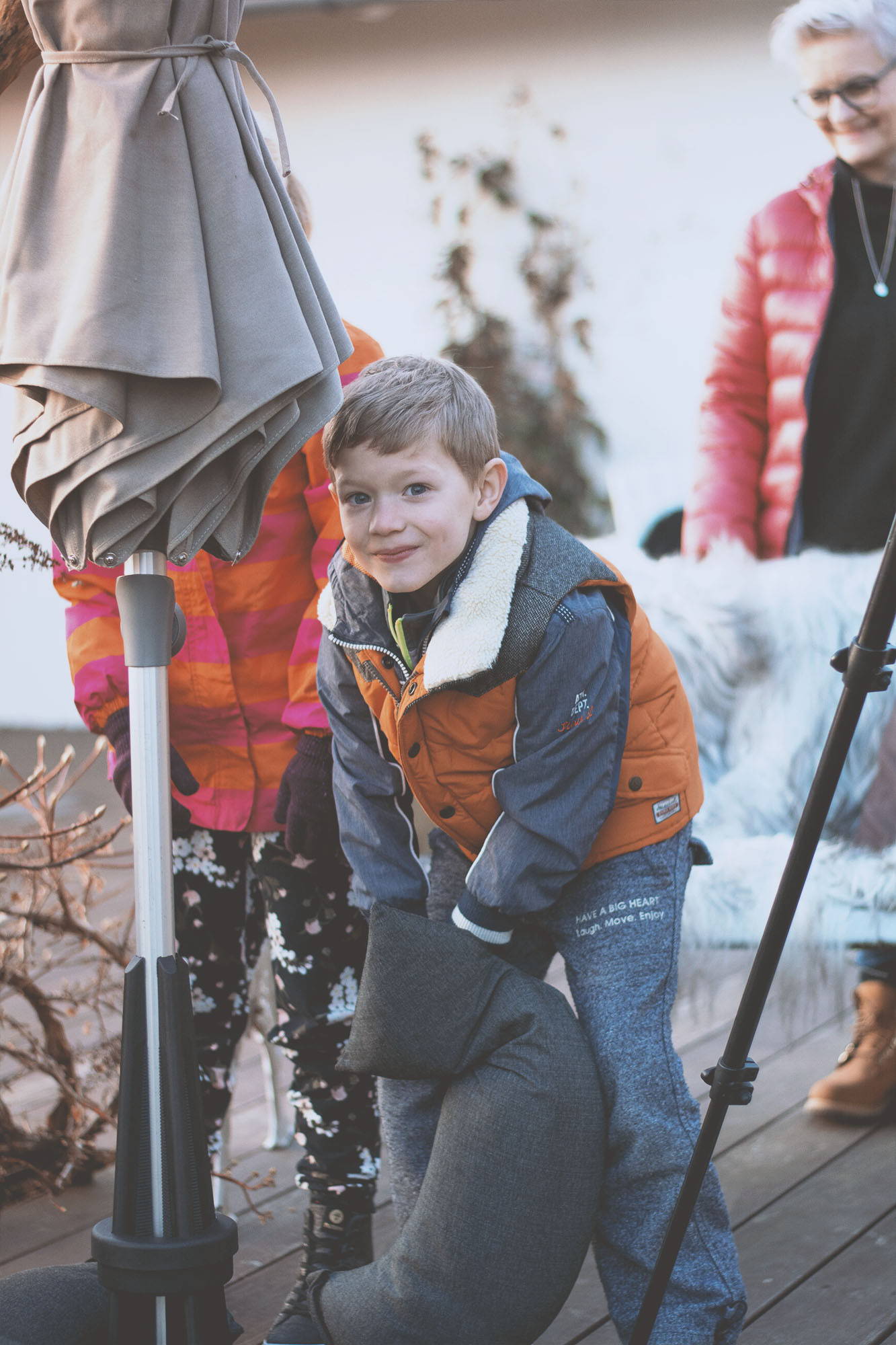 Let's break this down for you:
9 out of 10 of our customers have experienced a rusty parasol base.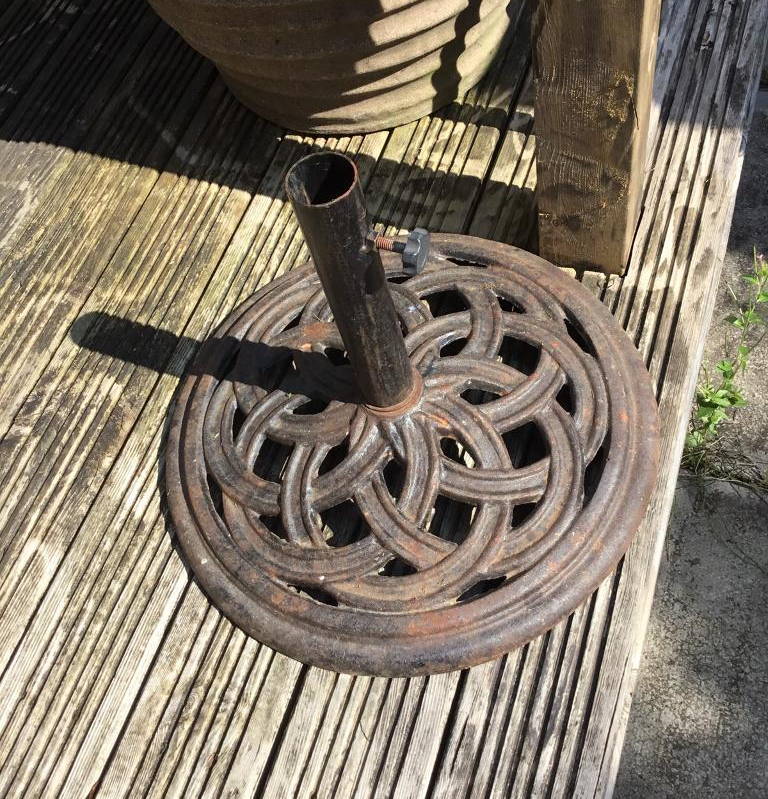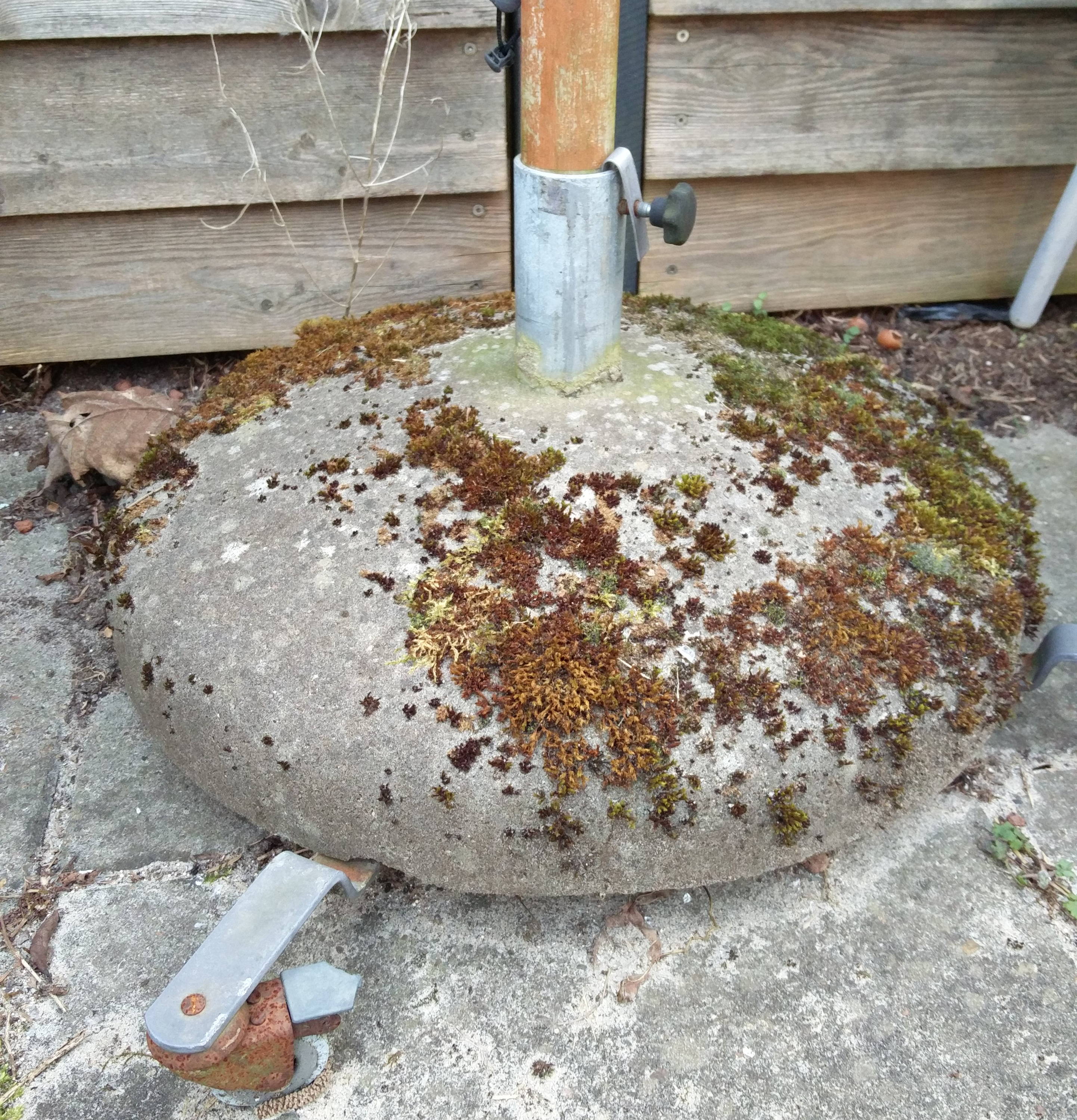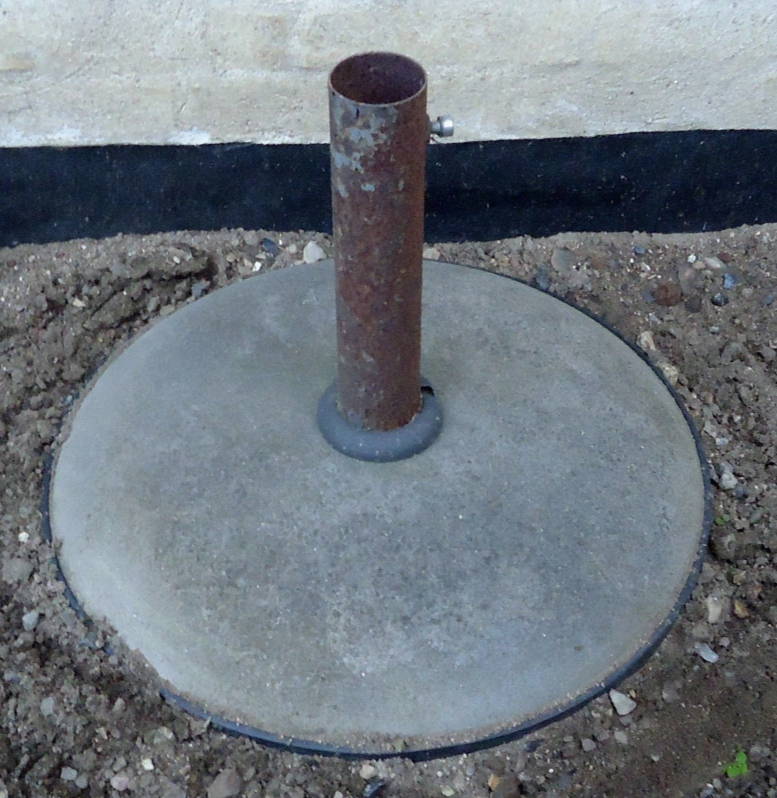 There is of course the so called "rust-free" parasol base... but we all know that it does not hold true after seasons of winter and rain. This rust is impossible to avoid and when it's there you can just as well forget about saving your base.
We considered using many different types of metal. Yet, we had clear criteria: No rust and no weight on the base kit. So there was only one option: we used the strongest and best composite material made of nylon and glass fibers. This material is one of the most popular in the car industry because of its long-lasting qualities. Because of this, it allows us to make a base kit that is both completely rust-free and low weight, so it's easy to move.
With our composite base kit for the parasol base, it is now the end of rusty scratches or bolts & nuts. Instead, we are giving you a better rust-free parasol base that will work season after season.
Flexible for every corner of your terrace
You might already have a nice dinner-set and, if your terrace is large, there's also space for a lounger. You have even squeezed in a sun lounger for when it's time for a needed break! Then there's the big barbecue, some pots and plants, and all your garden tools. And, just like that, there is no more space on that terrace. Sounds familiar?
Because of our flexible designed base kit and soft sandbags, it is now possible to squeeze your parasol in just where there is a tiny spot and just where you need the shade. Be it when you are barbecuing, sunbathing or sharing a nice meal with friends and family. Place it close to your table-legs. Next to your sun chair. By the corner of your balcony – anywhere! Baser parasol bases fit in every little space giving you the most shade the whole day.
Let's dwell a bit with the balcony. More and more people move into smaller houses or apartments, which makes the need for more flexible furniture even larger. Furniture that looks nice and still fits into very tiny spaces.
For that reason, we made our parasol base for the balcony. The same clever base kit, but tinier and more flexible. By using only three legs our parasol base can stay in every little corner or at the center of your balcony. When you are not using the parasol base in the winter time, you can simply dissemble the base, store it at your loft or basement. And, in the meantime, you can give a new life to your sandbag by using it to stabilize your drying rack on the balcony.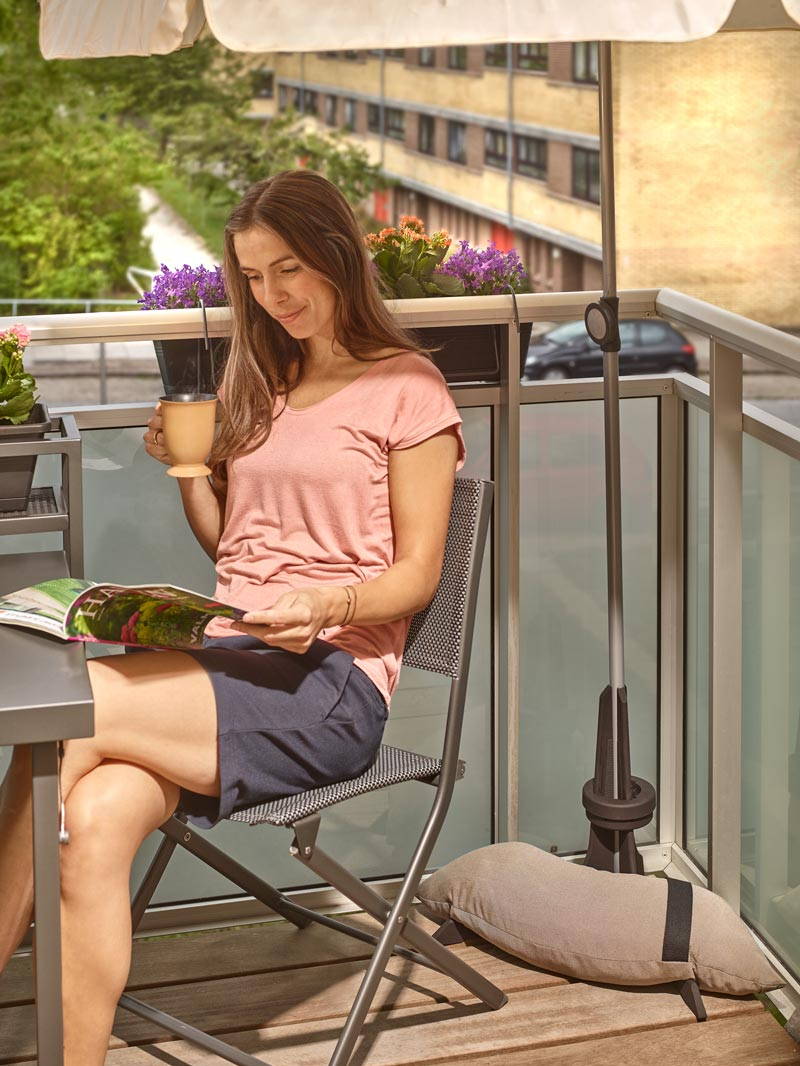 The most genius materials
When looking for the right materials for the perfect parasol base, one essential criteria was that the materials had to be weatherproof and UV-resistant. Using a parasol base in Denmark means changing weather, warm summers and harsh winters, lots of wind and rain. Not the best conditions for a concrete parasol base. So, we needed to look in the composite industry to get a 100% rust-free parasol base. Our awesome composite material is completely weatherproof, for the parasol base to last season after season. Composite is also a strong and durable material, so you don't have to worry about any components breaking.
The fabric for the sandbags is truly amazing. It comes straight from our Spanish friends in Barcelona. And, as we all know, if there is something the Spaniards know about is sun! The fabric is of Solution dyed Olefin.
"Solution dyed" is a term used in the fabric industry for how the fabric is colored. Imagine a regular piece of classical outdoor fabric for i.e. cushions or parasols. They typically fade within 1-2 seasons. That kind of fabric is "piece dyed" which means the outer surface of the fabric is colored, but the inner yarns are not. Imagine a radish – red on the outside but white on the inside. Placing this kind of fabric in the sun means it will only last a few seasons.
Yet, solution dyed fabrics are like carrots: The fibers and yarns are colored all the way through. Like this, the fabric you end up with is more durable and will resist sun much better than traditional fabric. After the coloring, our olefin fabrics are processed with a Teflon coating. As a result, its surface becomes water-repellent and dirt and stain resistant. In the end, all our nice materials give you a durable and awesome parasol base.
Better for the environment
The concrete industry is one of the primary producers of carbon dioxide. Not good, right? So, let's change it! When the world of parasol bases ships all around the world we ship unnecessary weight for no reason. Instead, we ship our base with only the weight of the base kit and the empty bags, since sand is easily found in every DIY store.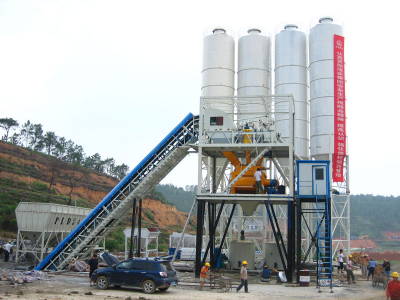 At Baser we take action! We constantly work with our suppliers to make our bases even more recyclable. Using composite material doesn't sound very sustainable, but, in fact, it is. Our base kit is a fully recyclable plastic material. When it is worn out after several seasons, you can send it back to recycling... and so we take care of the planet together.

Our sandbags are OEKO-tex 100 certified, which means they are also 100% recyclable and so safe that you can leave your baby sleeping on them, as no nasty chemicals are used in the production. All in all – let's save CO2 together by reducing the production and transport of heavy concrete parasol bases. And, while we are on it, let's increase the amount of good Baser parasol bases in every garden!
If delivering a completely new and revolutionizing parasol base wasn't enough, we do so with a European production. Yes, you read it right. All our parasol bases are produced in Europe and assembled & quality tested in Denmark. "Made in China" is old school – a criteria for us was clear from the beginning: It had to be "made in Europe". First things first, lead time is much faster, so you can get your parasol base on that hot sunny day when you need it.
Because we want to be able to deliver the greatest parasol base of all time, the best way to do so is with a localized production. This allows us to supervise the process and to quickly deliver the products to you!
Fold it, pack it, bring it
Have you ever brought your 50 kg concrete parasol base with you for a camping trip? Not really, right… Just imagining moving that clumsy concrete flab into the trunk of the car…. Phew, already getting sweaty.
Our Baser parasol base is not alone easy to assemble it is just as easy to dissemble and bring for the camping trip. Our 30 KG Baser parasol base has the perfect size for bringing on small trips or camping. Once the base kit is packed, it will be super simple to carry around. Like this, you can bring your parasol base with you to the summer house or on vacation.
If you decide to store our parasol base during the cold season: no problem, we got you covered. See our full assembly guideline here.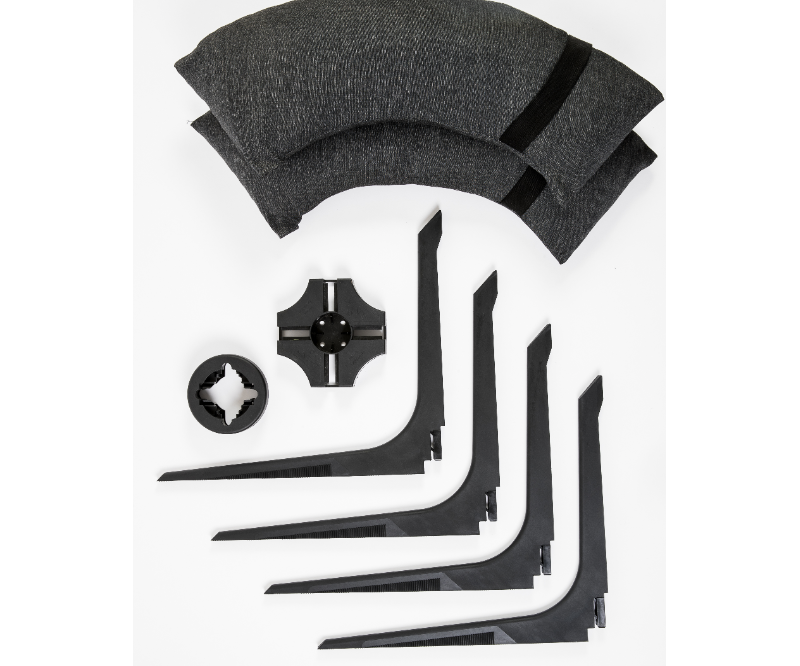 One day there was a search on our website for "separate sandbag", and we thought: uh? Why would somebody want a single sandbag? As more and more people started to search on our site for them, we created a product page for sandbags. One day we got an order on 2 sandbags. Out of excitement and curiosity we contacted the customer, to understand why this product would add value to them. As more and more orders came in, it was clear that we needed this as a separate product in our collection. You can find our full range of sandbags here. Thanks to great input from happy customers, we found out that there was much more to our sandbags than met the eye. People would use them for their drying racks or their cantilever parasol, for securing their trampolines in windy conditions or as an outdoor door stopper. And even for the awning on the caravan. Moreover, our sandbags are toe friendly! Which means you won't have to fear smashing your toes into concrete or granite. We have heard they are so soft, you can even use them to take a nice nap under the sun.
"For a couple of years, we have had a large umbrella in the garden that fitted into a metal base. Unfortunately, the umbrella broke so we have bought a new one. Sadly, the new one won't fit in the old base as the pole is a wee bit wider."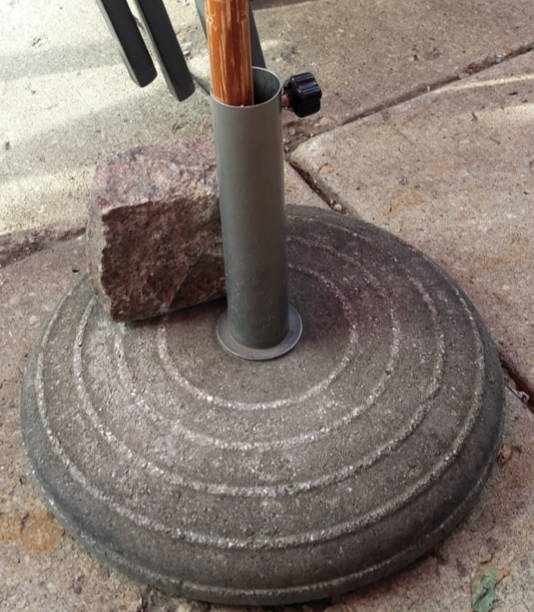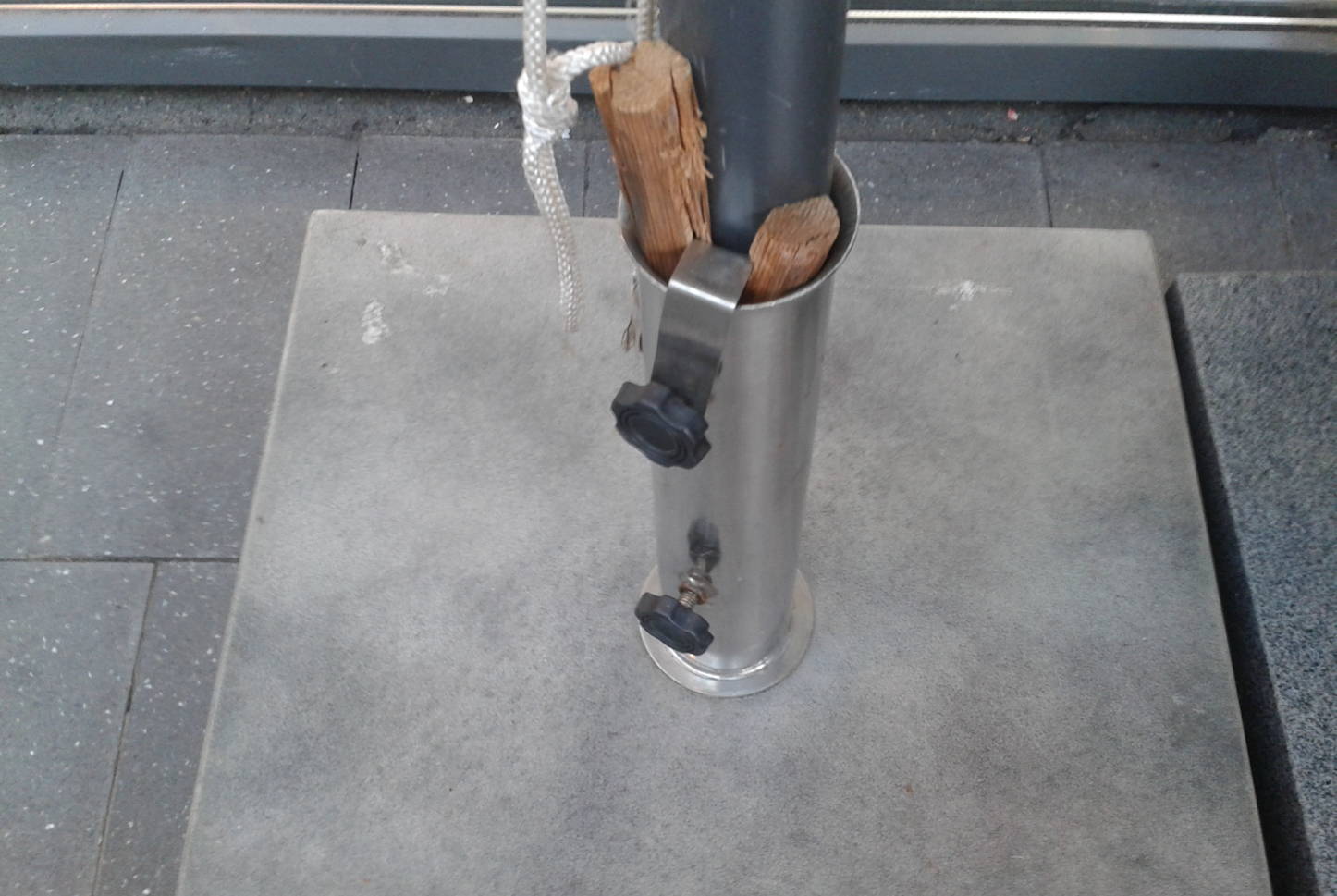 Sounds familiar?
Of course, it does. This is one of the classic problems with parasol bases: the tube is either too big or too small. Luckily, Baser patented base kit has no tube. No tube = no problem. The design of the parasol base allows you to perfectly adjust and accommodate the pole of your parasol. That's it. One base kit, for any parasol.
This then means that our base kit is the end of parasols that don't fit the tube of the parasol base. Baser Parasol bases are very convenient because they always fit your parasol, regardless of its shape, color or diameter.
Bringing it home from the store: super easy
We can say it louder but not clearer: with Baser parasol bases, we want to make life easier for you. That, of course, includes your shopping experience. That's why we have carefully created our packaging, that perfectly wraps our parasol base. It is small, it is stylish, it is, as our parasol base, easy to carry. Just grab the parasol base with one hand and the sand with the other one: as simple as that. Bringing your brand-new parasol base home, shouldn't be a challenge. At Baser we care about your shopping experience and your unboxing experience! What about once you get home? Once again: easy. Since our parasol base is easy to assemble, you won't need to spend more than 10 minutes, setting the whole baser kit up. We have thought everything for you, so your only concern is enjoying sunny days.
A growing community that stands behind us
If you are thinking of getting your Baser parasol base, remember: you are not the only one. Thousands of happy customers have already discovered the amazing features of Baser parasol bases. And they have all highlighted the exact same qualities that we have mentioned above!
A few years ago, finding a parasol base that was easy to assemble, easy to move and safe for all the family was difficult. Finding a parasol base with the highest stability and the best weatherproof materials was even more difficult. Luckily, those days are gone. We have finally changed the game.
The best and ultimate parasol base is already here and is accessible for everyone. What are you waiting for? 😉